IMAGE ARCHIVES
"I have loved my Art, my Intellectual Children more than Myself. Fortunately for me the Warmth of Stones make my Happiness."
– Victor Horta
Maison Frison, a Hidden Art Nouveau Jewel looks like a Neo-Renaissance Turret with French Influence zinc Mansard roof and Neo-Classic Facade. In Horta's hands, Iron Metamorphosed from workhorse into Butterfly. Pilasters and Railings, the Guilded Metal as Delicate as Filigree twisted Gaily into Configuration of the Architect's famous Curve. With impossible Combination and Juxtaposition Effortlessly co-exist in this Building.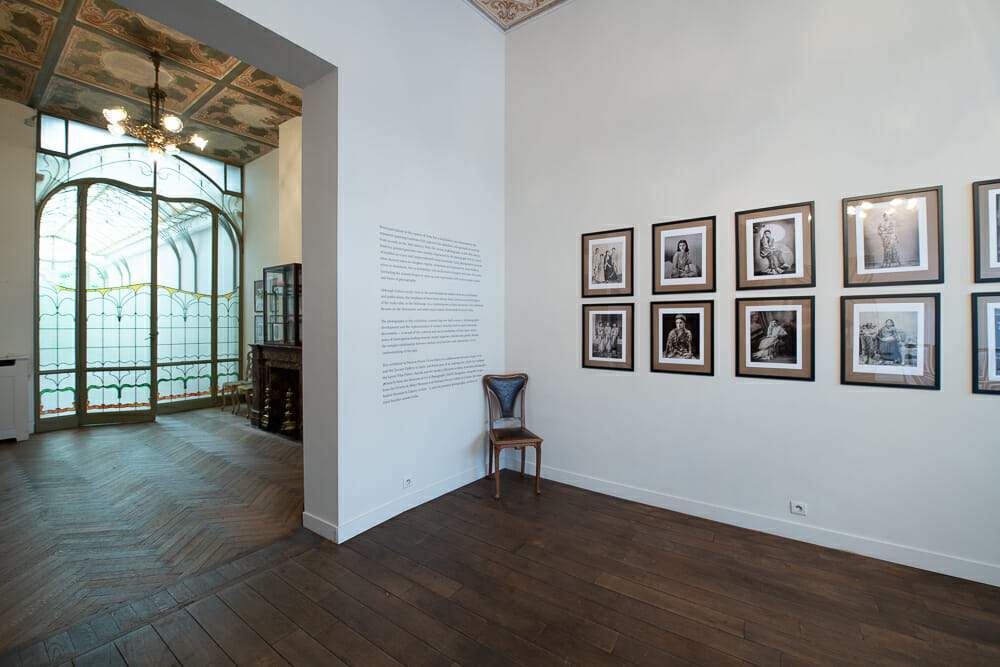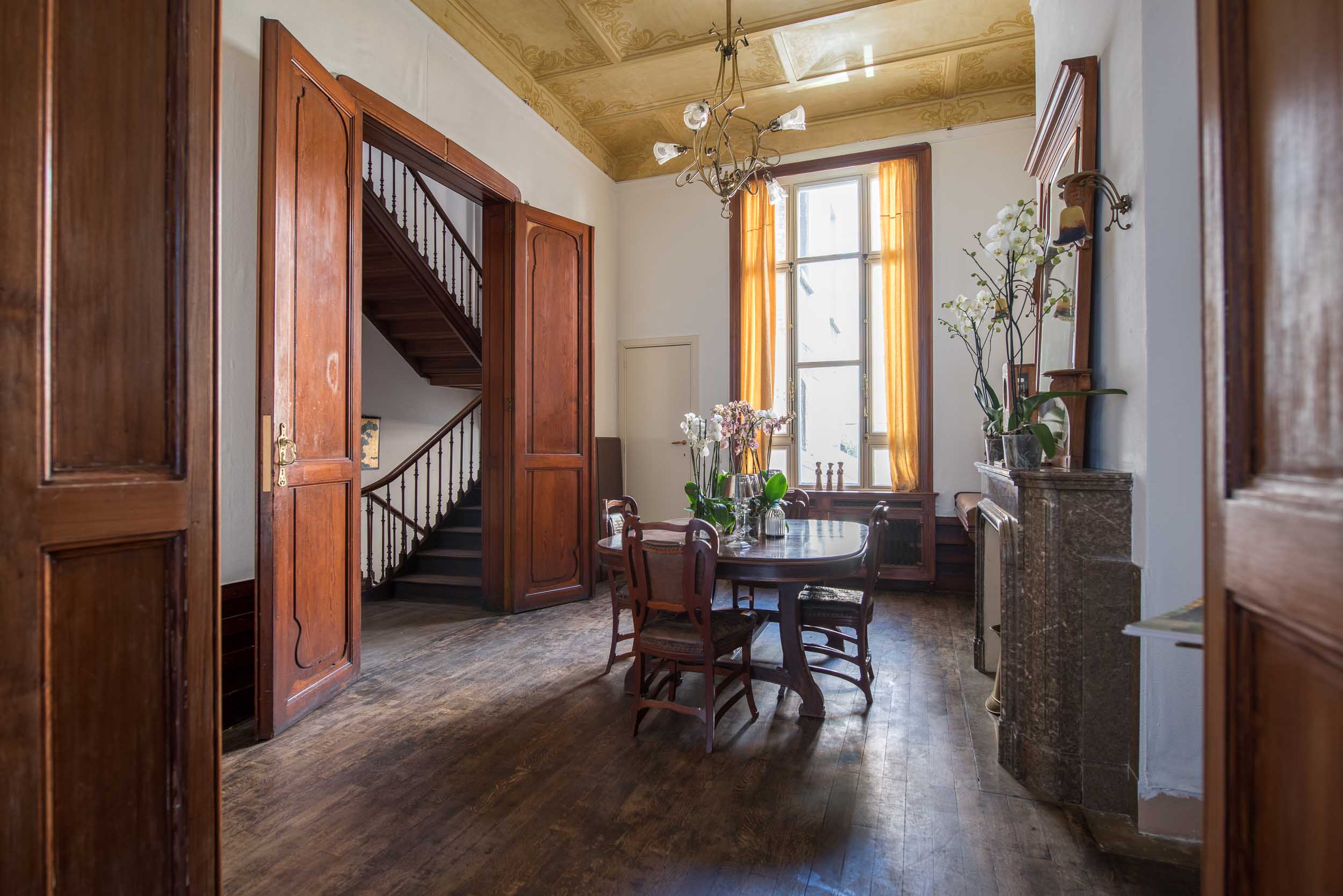 "I call architecture frozen music" – Johann Wolfgang Van Goethe
Interior
This famous quote could have Inspired Victor Horta which we discover Indeed in his work with Fluids lines, Organic forms Dancing and Embracing like a Living organic Musical Concerto.
Characteristic and Features of his style were unknown in Architecture at the time, in the Middle of 19th Century new Technologies, such as Wrought Iron and Cast Iron supports, opened the door to new concepts of Spatial Construction Found in the Frision as well as in the Hotel Tassel. Frison House was Designed and Built by Integrating all the Precepts of the first Modern Home of the Time.
The Furniture is Echoing to Each Other Gleaming and Hypnotic a never-ending Concerto.

Furniture
Furniture presented in the House is an Extraordinary Example of 19th Century Finest Art Decoratifs all put in a Time Capsule of an Extremely Rare Limited Edition Made to Measure for Maison Frison.
The collection Comprises of Pieces from Horta, Houbin, Thonet, Majorelle, Ecole De Nancy, Mercier, Henry Van de Velde, Gustave Serrurier-Bovy, Jacob & Josef-Kohn, Gustave-Strauven, Paul Hankar, Albert Ricaud, Henri Privat Livemont, Lucien Levy-Dhurmer Emile Galle to name a few.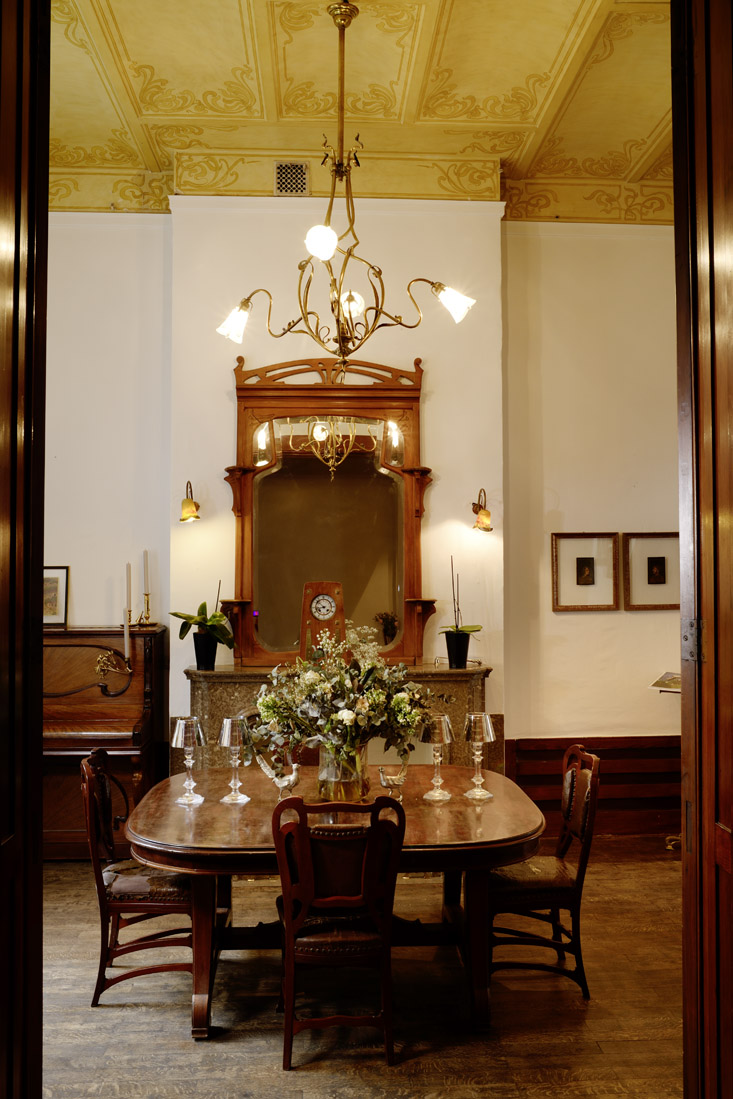 Wondrously Novel Swirling, Interpenetrating spaces are lit Transparently by central skylight & Elegant little Sconces.
Murals and Frescos
The prevailing mood is one with simultaneous Dynamism and Languor held in quivering tension by organic forms and curling tendril like line. Making humble Industrial material become the basis of most sophisticated ornament. These themes coupled with an unprecedentedly fluid redistribution of light and air and a rhythmic succession of rooms that can only be described as symphonic heralded in a new sensibility in Art and Design rising a Full Fledged Art Nouveau structure- Maison Frison.
Everywhere one can see Glimpses of the original Intricate Murals, Frescos and Mosaic which are being painstakingly restored, like the recently fully Restored Winter Garden.
Chisel by chisel the enchantment grows, the sleeping beauty is waking up from 125 years of sleep…
Photo Credits:
Paul Louis, Sophie Voituron & Olivia Droeshaut
Museum Horta for Achieves & Images